ESTHER MEERMAN – STUDIO OWNER AND PILATES INSTRUCTOR
I am a passionate and patient teacher aspiring to share with you the many benefits of Pilates. Pilates is a powerful tool for connecting with your body and through its qualitative and conscious approach to exercise you will develop a thorough understanding of your body's potential, challenges and needs.
With this understanding, and my in-depth knowledge of the human body and movement techniques, we can then start working with the body's flexibility, mobility and strength to reach the desired personal results.
I love teaching various Pilates styles: from an energetic, fun and somewhat acrobatic class using the cardio trampoline or stability chair to a more calming, relaxing and muscle lengthening session using rotations, extensions and stretches on the mat or the reformer.
In my experience, mindful exercise makes for less repetitions in order to see and feel positive results. Prepare for a Pilates experience that moves you out of your head and into your body, lifting you up and connecting you to every part of yourself.
A curious person and keen learner, I stay up to date with research and innovations – such as the 'fascinating fascia'.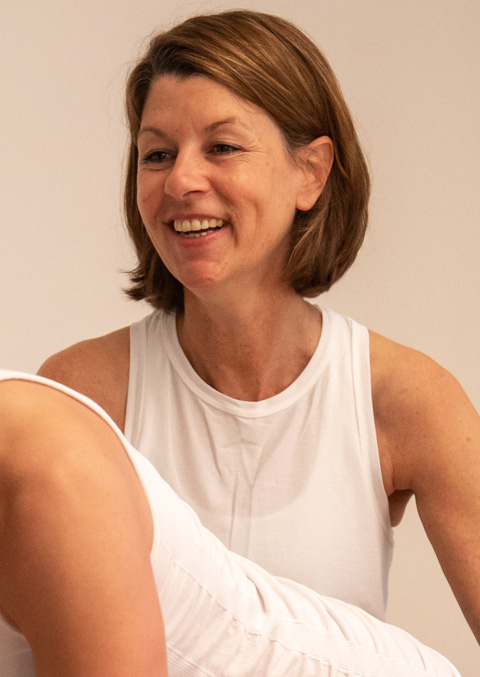 'Fascinating Fascia' and how to support it
Fascia is the connective tissue that weaves throughout the body's organs, muscles and bones. It is a crucial element in maintaining overall health and optimal physical function. It's essentially what holds us together – and it is everywhere throughout our bodies.
When your fascia is healthy, it is supple and flexible enabling the body to move, twist and bend smoothly. Body symmetry and alignment are improved, blood flow is increased, and you recover faster from exercise. But when your fascia is unhealthy, it gets tight, clumpy and sticky, impeding mobility and causing pain and discomfort.
During my classes I integrate movements that stimulate the fascia – releasing all the tight tissue in your body and helping you move more efficiently.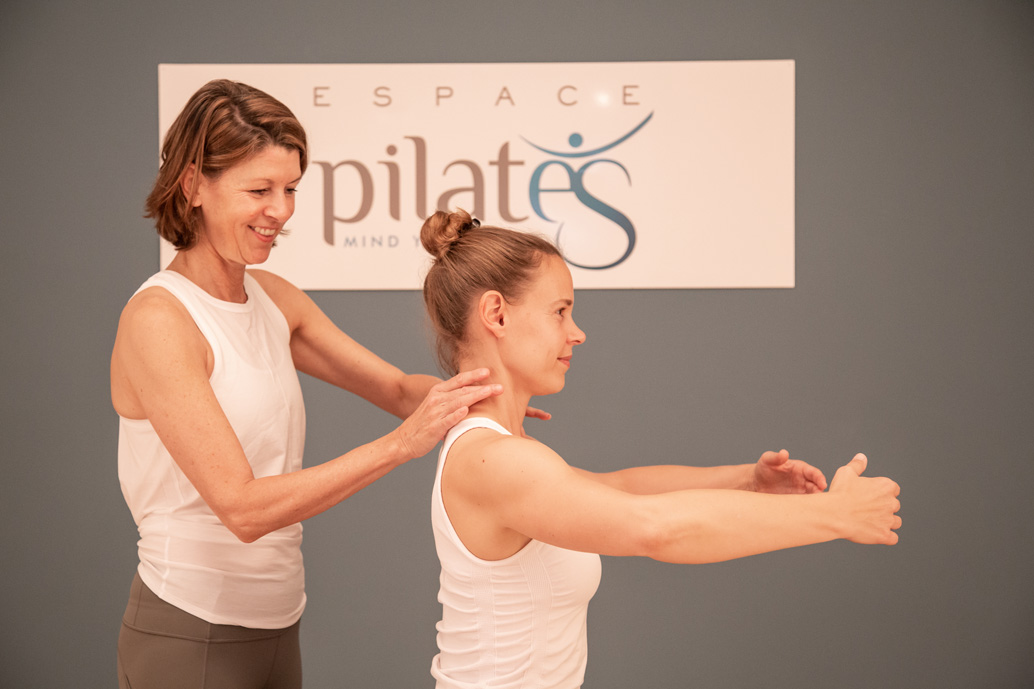 ESTHER'S EDUCATION AND EXPERIENCE
My first experience with Pilates dates back to 2007 when I joined private classes in Manila, the Philippines. I soon became a Pilates fanatic, but it was only in 2010 that I decided to make a career out of my Pilates enthusiasm. I wanted to share its many benefits and encourage people to exercise in a more mindful way.
In 2011 I finished a 10 month intensive training program at Fit for Life, Geneva, in which the focus lay on mastering a thorough knowledge of the human anatomy and different physical/medical conditions. This allows me to fine tune and tailor classes to the specific needs, requirements and desired results of clients.
I started teaching from home, but soon decided to open my own studio. As an independent teacher, I continue to expand my knowledge and expertise by following specialised training modules.
Listed below are the specialized training modules that I have completed.
Incitus, Amsterdam, The Netherlands, 2016:

Anatomy Trains in Motion; Myofascial Meridians for Movement Therapists

Fit for Life, Swiss Pilates and Yoga, Geneva, Switzerland:

Pre- and postnatal 2015
Osteoporosis 2015
Pelvic power 2014
Back rehabilitation 2013

Fit for Life, Swiss Pilates and Yoga, Geneva, Switzerland:

PMA® (Pilates Method Alliance ®) qualified Pilates Instructor Mat work and Pilates Apparatus, 2011
DISCOVER MY PILATES CLASSES HERE
Come and join the Pilates Class in Lausanne
JOIN NOW
Espace Pilates Mind Your Body
Avenue Mon-Repos 36,
1005 Lausanne,
Switzerland